This was an article printed in Antique power magazine in the July-August 1991 issue. It was an interview with Luke Biggs, an engineer with the Silver King tractor. He has passed away in death since the article was written. Luke was not a collector, but certainly was involved with the designing and engineering of the first Silver Kings made to a great extent..
A Conversation With
Luke B. Biggs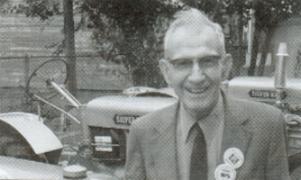 Silver King Engineer
Reprinted with permission from Antique Power 8/1991
Luke B. Biggs was an engineer at Fate-Root-Heath from 1932 through 1943. He was responsible for many of the design features of the pre-way Silver Kings. Though he had no formal training as an engineer, he was a brilliant man. His farm background and his innate engineering ability allowed him to make great contributions to the science of power farming through his work with Silver King. Mr. Biggs passed away in 1991 at the age of 91.
"When I was young I lived on a farm about 60 miles south of Plymouth. I was the mechanic in our family and I had built a homemade tractor. I heard that someone up in Plymouth was building a tractor, so I took a picture of mine up, just to compare it with this Plymouth tractor. I didn't even know where Plymouth was at the time. On a Saturday afternoon I walked in and there was Charlie Heath. I showed him my tractor and he offered me a job on the spot. I told him I didn't need a job, that I had all the work I could do at home and I just wanted to compare tractors. I went back the following Saturday and we had the same conversation, and this time I took the job.
"After I'd worked a couple of weeks the supervisor told me, "Now your in charge of the tractor division." The first thing I did was rework the transmission assembly line. They were machining one hole in the transmission case and that took an hour to do with a big drill press. I figured out how to do it in four minutes with a hand drill.
"We started work on the 3 wheel tractor shortly after I got there in 1932. They had been thinking about one, but they liked my design, so they set me to work on it.
"We came along when no one else was building a tractor like the Silver King, small and powerful. With the exception of Allis Chalmers, we did more to put rubber tires on farm tractors than anyone. There was a lot of development going on in the late 1930's. We should have had another gear between 3rd and 4th. We had plans to do it, but the War came along and put a stop to it. We had a complete hydraulic transmission and being tested, too.
"A driver was on his way out of town with a semi load of tractors one day and he wanted to stop and eat. He asked where he could park his truck, and a fellow told him, "As long as your hauling tractors out of here you can park anywhere you want!" There wouldn't be much excuse for this town to be here in the 30's if it wasn't for Silver King.
There were a lot of things on the later models that I personally wouldn't have done. Once, I asked the President of the company why they did some thing or another to the tractors, and he said, "Because that's how everyone else is doing it," I blurted out, "Why, that's the worst reason in the world to do something!" You shouldn't say things like that to the President of the Company.
When the War came along the plant started doing defense work. I left Fate-Root-Heath in 1943. I didn't want to do defense work. I went home to win the War by raising corn and potatoes.