Gilmer Bost's
1947 SILVER KING SN 7163

My father purchased the 3 wheeled Silver King in 1952 from
the Allis Chalmers dealer in Albemarle, NC for about $450. I
was six years old when it was delivered. While climbing all
over it I discovered it had a horn. How neat I thought, a
tractor with a horn, so I proceeded to blow and blow it the
rest of the day. The horn soon broke and for some strange
reason, my father never tried to fix it.

The tractor was in constant use on the farm until 1964
when my father quit farming full time and went to work for
the Department of Agriculture inspecting poultry. It was
always well maintained and was repainted once. It was then
used sparingly after that and was finally parked in a shed
to gather dust.

My brother Herman told me he would restore it for me if I
could get my mother to let me have ''Silver''. I kept hinting
and asking her to sell it to me for about a year. Finally
she agreed to let me have it for 250.......cents. It didn't
take me long to count out and present her with 250 pennies.
She even made me a title for it. I now owned ''Silver''.

The restoration began about Easter, 1989. Silver was
towed out of the shed to the back yard where a battery was
installed. it then needed some ignition work.My other
brother, Brown supplied points, condenser and some other
parts he bought for his tractor but had not used yet. We got
the engine running with little trouble.

Next, decals were ordered and silver and red paint was
purchased. Silver was then taken to Herman's house nearby so
he could work out of his basement. The sanding and painting
was done and in a few weeks Silver was back home. The final
part of the job was then completed, the decals were put on.
She really looked great, and still does. I bought a bedspread
at a yardsale for a dollar to cover the hood to keep the dust
off and the decals looking fresh.



In September of 1989 near disaster struck, a storm called
Hugo came roaring through and blew the 3 car garage down on
Silver and her 2 companions, a 1952 Studebaker and a Dodge
van. She got a few scratches from a ladder that fell on her
hood but otherwise was unharmed.
The garage has been put back
together and Silver resides in her corner under her
bedspread.

Silver Kings were made in Plymouth, Ohio and were called
Plymouths. A dispute with Chrysler prompted the name change.
According to the serial number book, 8717 were assembled
between 1934 and 1954. My Silver King, number 7163 is a 3
wheeler with a 4 cylinder Continental red seal engine. It's
the standard color, silver with red wheels, deck and decals.
I also have a 1948 Silver King parts tractor, serial number
7482 that is maybe 60 per cent complete.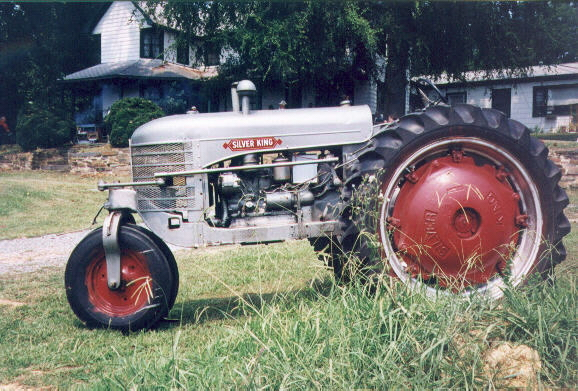 SilverKingTractors.com would like to thank Gilmer Bost for submiting his story. We're looking forward to hearing about the other one!
page created by Rich Adams
Click here to go back to homepage.